'For your love is better than life, my lips will speak your praise.
So I will bless you all my life, in your name I will lift up my hands.' (Psalm 62 (63))
Each day during Easter week, we say these beautiful words, as they are, from the first Sunday Psalm for Morning Prayer. Sunday is the day of the 'Resurrection' each week of the year, a great feast day for those who want to follow Jesus, and that is what we celebrate each and every day in the week following Easter Sunday, in what is termed the Octave of Easter. Each day of the 8-day octave is a 'Sunday'; how perfectly delightful! 
In the quotation from the Psalm, 'love that is (more important) better than life' does not imply that we should not love life, and to the full. Rather it gives clarity to the sacrifice that the English martyrs made when they, willingly, went to the scaffold at the time of the English Reformation, rather than deny their faith in the Mass and the central position of the Papacy.  They loved life, but this did not deter them from giving it up for love.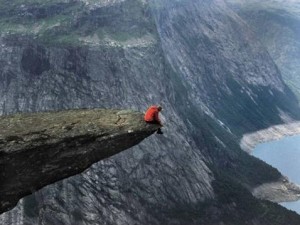 The picture, above, is one that is a part of a 'PowerPoint' presentation on the St. Mary's Website, sending out Easter greetings. A colleague, who works with 'teeming' regularity in the Priory House, remarked to me that this picture affected him a lot, largely because, when we look from 'up there'  i.e. from the view of the Risen Lord, with whom we are united, our difficulties – according to the Lord's own testimony – seem very different. The task before us is to remain up there, in Jesus, and with Him, at the right hand of the Father. We often prefer to 'lick the wounds' of life – whatever they may be – at ground level, and from that viewpoint, things can lose their proportion.
My friend and colleague went on to say he wondered where this photograph came from, as it is a bit 'scary' when you look at it, especially as the overhanging rock seems to have a fault in it. Here, I think, is a good image of the trust we should have in God, and His Love, especially at Easter time. It is not everyone, however, who could do what that young man is doing; most would hesitate, I imagine, before chancing one's life, walking to, and sitting in, such a precarious position.  Talk about 'vertigo'!
God's love is 'better than life' itself, according to psalm 62 (63). When we realise this, we can then praise God all our lives, because things are rightly in proportion.
(Unfortunately, in sending out this blog by e-mail, 'Word Press' distorts the original formatting of the document.  Readers are, therefore, advised to visit the website www.stmarysblog.co.uk should they wish to read it in its intended format).