This Madonna and Child, shown below, has been produced by the famous Sister Anthony Wilson SND, who is well known in Liverpool, for all her artistic work for the Metropolitan Cathedral – "Paddy's Wigwam" as it is 'affectionately' known by the "Scousers".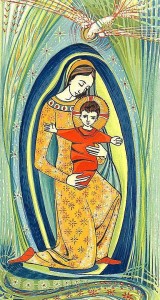 I like the image very much, because Jesus is shown with a typical English face, (grown up, he might be an English football star, probably playing for one of the Liverpool teams).  Mary is a young, vibrant woman; her glory is shown in her gold dress, adorned with the cross motif, while she carries Jesus in red swaddling clothes – a foretaste of his martyrdom – looking intelligent, alert and ready to grow in wisdom and age, for his great mission of redemption.  Above is the Holy Spirit, hovering, and Jesus is clearly the Holy One of God, for he has the halo. Mary, his mother, holds him, at once protecting him, whilst almost giving him away; Jesus and Mary are clearly under the protection also of the Holy Spirit – under the shadow of His wings, whilst Jesus, with his outstretched arms, demonstrates where those arms will be on the cross.
God's Glory! What is this? The Angels sang; "Glory to God in the highest and on earth peace to people of good will". Whatever God's glory is, it always remains the same; it is not affected by what goes on in creation. However God is not an impassive prime-mover; he is our loving Father, merciful and kind, knowing us through and through, like our human fathers, and he wants us to know something of his glory. St John's Gospel says that the Cross of Jesus is his Glory – self-giving love.
God's glory is unshakeable and not dependent on a human way of looking at things! It need not boast, or seek praise from anyone. Jesus, born in obscurity, amid troubles and suffering, the Word of God made flesh, shows his glory according to the Gospel on the Cross; birth, death, life's 'ups and downs', are all one in his glory.
Our understanding of God's Glory comes when "I abide in Him as He abides in me". I love the English hymn "Abide with me" of the 19th century Anglican priest, Henry Lyte. One verse strikes me as so realistic and entirely apposite: "When other helpers fail and comforts flee, Help of the helpless, O abide with me."  The Word of God is born again in us, each day if we let him. Every day is Christmas Day. Its fruit, in us, is peace. May peace reign everywhere – and not just at Christmas!  
A Happy and Holy Christmas to Everyone.
Fr. Jonathan