As I write this blog I am half way through a holiday in Poland. This year I have been on many retreats and meetings all of which have been very helpful; some were chapters at Ampleforth, my Abbey, others were the Mariapolis in Perth, others retreats with men Religious from all over the world. This holiday though is a holiday! I am staying in a Redemptorist monastery with my friend Fr. Piotr Andrukiewicz and it is a relaxed monastic regime. However there are no bells or telephones calling for my attention. I have been in the last week with Piotr to many wonderful places.
The people of Poland are good and bad like any people anywhere. Yet things have happened which hardly ever occur in England. One day I was sitting next to a young girl on a crowded bus as we left Birkenau. We were quiet for a bit and I began a simple question: "Are you Polish?" A brief straight forward conversation followed, she in her halting English and me trying to encourage her. There was no embarrassment, no sense of shame or any underlying negativity. It was like a grand-father talking over something with his grand-daughter in a perfectly natural manner. I cannot think that such a thing has happened in England with a young girl who was a complete stranger. I see in general around me in Poland a healthy and positive outlook on life. I am perhaps living with some of the best of the Polish population.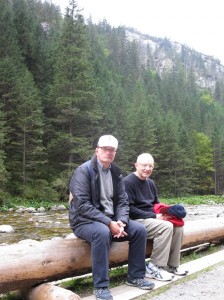 Myself and Fr Piotr resting during a walk in the Tatra Mountains South Poland.
Another observation is going into churches. In Britain on holiday with a friend we would usually go for walks, read, sleep, play board games and watch a DVD or two, and take some exercise. I might occasionally go into a Church; I might find the Blessed Sacrament there. In Poland I have been into Churches four or five times a day! It seems normal and natural, as though the statues of the saints from ages past portray people who are with me now, like a brother or sister or guide or helper. In Poland when you see Jesus, Mary , the Apostles, St Faustina or St Pope John Paul and many others it produces joy, a sense of their presence and has been uplifting.
Everywhere in Poland the Pope that counts is St John Paul II. There are pictures and statues and references to him everywhere. It is not that other Popes, like Pope Francis and Pope Benedict are forgotten, but they do not substitute for Karol Wojtyla. He is alive for this people in a special way that goes beyond all controversies about him. If anyone goes to Poland I would recommend them to visit the museum of his life at his birthplace and home for 18 years at Wadowice. It is one of the best museums I have been into, for its wonderful use of video clips, sounds, photos and the down to earth and yet proudly patriotic commentary of the guide who takes you round.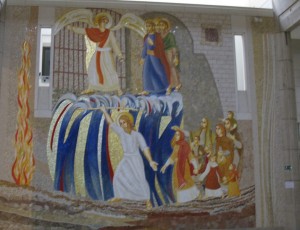 Mosaic of Jesus the new Moses in the John Paul 2 Centre Krakow
The main point of this blog is to write about something else: the visit in Poland to Auschwitz / Birkenau. This was the infamous and largest killing and concentration camp at the time of the Nazis where probably at least 1.5 million human beings, Jews in the majority, followed by Poles, Gypsies and others were murdered between 1940 and 1945. I have worked out roughly that the average number exterminated was about 1,160 each day. Some days many more were killed and some days less. The visit helped me to understand the cold efficiency of the Nazis, their hatred of some groups, their evil, and the squalor the poor prisoners suffered.
Toilets for example could be used only twice a day and only for sometimes a minute each in massive communal toilets for 60 people at a time close together. The usual times to go to the toilet was going to work and coming back from work. There was no paper, no cloths to clean up with. These toilets were never properly cleaned and the toilet blocks smelt abominably. The Nazis refused to enter them it was so bad. They left their minion supervisors among the prisoners to go inside. The bad situation was compounded because there was no running water to clean them, it was done by a squad of people for whom it was a privilege because they had more time themselves to attend to their toileting needs. In the separate barracks where the prisoners slept there was no clean water, only stagnant; the prisoners inevitably contracted dreadful diseases like dysentery. They were furthermore not allowed to go the toilet at night and they slept at least 5 together to a bunk in three tiers. They had no warm clothing, only canvas like prison uniforms, and nothing to protect them from the cold Polish winters. The cold was worst on the concrete floors; those above were on wood. Their barracks were infested with rats. They hardly ever washed their clothes. Their underwear if they had any, was hardly ever washed and not changed for months a time.
In regards food the rations were pitiable. Breakfast was some hot water with some kind of tea leaves or herbs inside; at lunch a bowl of hot soup taken at work if they were working. This soup was boiled water in which there were a few vegetables. If you were lucky at lunch you might occasionally find a piece of potato or its peel, At night after working hard, being beaten if you fell down under the burden, often in the cold, each prisoner received a 300 gram piece of black bread with ½ a sausage, or a small slab of margarine or a little jam.
Brutal treatment was the norm, and it was worst from fellow prisoners who were given privileges by the Nazis to be in command.
A contrast in all of this was that the Nazis projected a positive feel that to those who would be killed immediately they arrived. They had been told they would start a new life; they brought their belongings as best as they could with them carefully packed in named suitcases, often lawyers and doctors, school teachers and honest shop workers, business men and workers with their wives and families. The ones who immediately went to their deaths were considered to be of no use because they were unfit to work. They were mainly Jews transported from all over Europe, Poland, Hungary, Greece, Germany, Holland Belgium, France, Italy and even from little Jersey. It sometimes took ten days to arrive and the majority if not already dead, were in no fit state to take on hard labour. Those who certainly would die immediately were elderly women, pregnant mothers, children, the handicapped, elderly men and those who had been already drained to nothing by the journey. They were lead to a lovely green area with flower beds, told to leave their things which they would collect later, put their clothes onto the numbered pegs and not to forget their number, and then go into the shower after taking all their clothes off, to wash clean. Instead in 20 minutes they were efficiently dead, having suffered dreadful vomiting pain and nausea. Instead of a refreshing shower, deadly poison was poured on top of them, 2000 at a time. Their bodies were cremated.
In the squalor and slime, amid the cynical cruelty, the inhumanity, the filth and degradation of the place there were bright poppies of hope. One such was Father Maximilian Kolbe, a famous and brave Polish Franciscan Priest.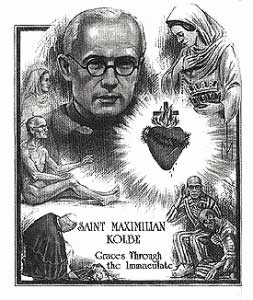 A poster about St Maximilian Kolbe
As our group of about 25 English speaking people went round the camp in shock and silence at what we were witnessing, we came to Maximilian Kolbe's death cell. Saint Pope John Paul 2 visited it himself as Pope on 7 June 1979, after celebrating a mass in the camp. He lit a big candle, and a large section of it still remains there in memory of that visit.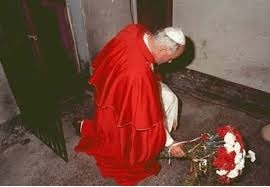 St Pope John Paul II visited the cell on 7 June 1979
It was a place of prayer and hope for me. In fact we had to hurry by because so many people were visiting the camp that day. I remember it still passing by fleetingly; it was a high moment of love that has stayed with me. I could only make sense of this diabolical suffering on such a grand scale by knowing that in Maximilian Kolbe, Jesus was forsaken by his Father on the cross. Maximilian was identified with the Word of God in Jesus's terrible physical and above all spiritual suffering. This was the price the Son of God paid for each one of us to be saved from our sins, from all despair and suffering in this vale of tears.
I told a young USA man of our party that only my faith as a Christian believer allowed me to make sense of what we were witnessing. He had no idea I was a priest and a monk as there was no outward sign to show it. He remained silent. We talked again later and were friendly. I had come to terms as best I could with my feelings, thoughts and emotions. Some of us were welling up to tears. It was too much. Yet identifying with Jesus who on the cross went through all of this and more on behalf of us all gave some light. He, being the Word of God through whom we are made, who was totally innocent, could take on in his human nature all the sinful evil and suffering that goes on in the world, past, present and future. It is taken up into that one act of heroic love of Jesus who bore all this on his shoulders, to such an extent that Jesus too lost his relationship with God his loving father. Those victims in the second world war probably lost all sense of God too. Many others martyred for their faith today or suffering in terrible conditions of life probably do. But God, in our human nature has himself been through all that, and we may well find that happening to us from time to time.
Everyone would be killed in Auschwitz / Birkenau; both the workers who might live six months or so, some lived a little longer, and those who were taken straight from the cattle trucks to die in the gas chambers. St. Maximilian was an Auschwitz worker who had been there three months in July 1941. He was later canonised by St John Paul II on 10 October 1982 in the presence of Francisek Gajowniczek, a married man whose life he personally saved.
At the end of July 1941, three prisoners disappeared from the camp, prompting Karl Fritzsch, the deputy SS Nazi camp commander, to pick 10 men to be starved to death in an underground bunker in order to deter further escape attempts. When one of the selected men, Francisek Gajowniczek, cried out, "My wife! My children!" Maximilian Kolbe volunteered to take his place.

Franciszek Gajowniczek at the canonisation of Kolbe, his photo as a Prisoner, and a drawing of Kolbe substituting him
According to an eye witness, an assistant worker in the punishment cells at that time, Maximillian Kolbe in his prison cell, led the prisoners in prayer. Each time the guards checked on him, he was standing or kneeling in the middle of the cell and looking calmly at those who entered. After two weeks of dehydration and starvation, only Kolbe remained alive. The guards wanted the bunker emptied and they gave Maximilian Kolbe a lethal injection of carbolic acid. Kolbe is said to have raised his left arm and calmly waited for the deadly injection. His remains were cremated on the feast of the Assumption of Mary the 15 of August.
It is now three days since I visited Aushwitz / Birkenau. Anyone who wishes can go onto the web and find out more about anything I have written. It is worth putting into your search engine "The Auyschwitz Album" a set of photographs taken by an SS man or group of men, found in Germany after the war which gives photographic evidence of what happened.
Though not one of those 1.5 million victims of Auschwitz / Birkenau could have felt optimism, they might have had hope as had Maximilian Kolbe. Both Jews pray to God and we Christians have God made man among us. In this God, we can hope even in times of torture and death.
My faith, shared with others in our marvellous family of the Church, is my only way to find some relief in facing up to what was a shocking afternoon last Tuesday 24 September, the feast of Our Lady of Walsingham. One commentary about all this that has given relief to my wounded heart comes from Pope Benedict XVI who visited Aushwitz – Birkenau on 28 May 2006. It may help a reader: it can be found at http://www.vatican.va/holy_father/benedict_xvi/speeches/2006/may/documents/hf_ben-xvi_spe_20060528_auschwitz-birkenau_en.html
Fr. Jonathan