In this Year of Our Lord, 2013, we now find ourselves in the last week of June, and, before the month disappears from our calendars altogether, I just wanted to say a few words about the Sacred Heart of Jesus.  Traditionally each year, the Church has dedicated the month of June, to devotions to the Sacred Heart.
On June 1, 2008, at his weekly Angelus address, Pope Benedict XVI urged Catholics "to renew, in this month of June, their devotion to the Heart of Jesus.  He said:
"The Feast of the Sacred Heart of Jesus is a moveable feast, but it most often takes place in June, and thus June is traditionally dedicated to the Sacred Heart.
The Sacred Heart … (he explained) … is a symbol of the Christian faith that is especially dear, to ordinary people as well as to mystics and theologians, because it expresses the 'good news' of love in a simple and authentic way, encapsulating the mystery of Incarnation and Redemption.
… The Sacred Heart reminds us that Christ is not God simply appearing as man; He is truly man, just as He is truly God.  
… From the boundless horizon of His love, God entered the limitations of history and of the human condition. He took a body and a heart so that we can contemplate and encounter the infinite in the finite, the invisible and ineffable Mystery in the human Heart of Jesus of Nazareth.
… In that encounter, we feel the presence of Christ's heart within our own."
When we speak about the Sacred Heart of Jesus, we are leaving aside the purely organic functions of the human heart and referring, symbolically, to nothing other than love – the greatest love that the world has ever known; it is a love that will never be surpassed.  This is not the same as romantic love, so often described in the many forms of our media, but to God's love – through Jesus – to all of us.  God's infinite love becomes manifest to us in the form of Jesus – His Son – His Beloved One – given to each one of us for our re-birth, our salvation and redemption.  Jesus is our Saviour and Redeemer – and no greater love has ever been demonstrated to the human race.
In the Litany of the Sacred Heart, we use heartfelt and very beautiful words to describe our feeling for Jesus, the Sacred Heart.  We ascribe titles to him such as 'Holy Temple of God' and 'Tabernacle of the Most High', but then go on, more simply, to use words to describe him as our 'source of consolation', our 'hope of all who die in thee' and 'our peace and reconciliation' – the latter terms much more descriptive of our frail and human state, than the former 'majestic' names.
Jesus, who was also human just like us, must have experienced those same deep feelings for those around him Mary his mother, Joseph, the disciples.  Jesus was also divine – the Son of God – and this is where the greatest love resides – love that transcends everything – love that conquers sin and death – love that demands the giving of one's life for each and every one of us, each and every day. This love that is expressed as the "Sacred Heart" is more like a furnace of love for each one of us, individually, who have been called, by God, and by our name. When God called Abram (who became Abraham) in that one person was included all those who have faith in God.
This is how Pope Francis put this on Wednesday of last week:
"God creates the stars, creates the plants, creates the animals, creates this, that and the other.  … but He creates Man in the singular …  one!  God always speaks in the singular to us, because He has created us in his image and likeness. And God speaks in the singular. He spoke to Abram and gave him a promise and invited him to come out of his land. We Christians have been called one-by-one: none of us is Christian by pure chance. No one." There is a call, 'by name, and with a promise,' the Pope said, "Go ahead, I am with you! I walk beside you." This, he said, Jesus knew as well: "Even in the most difficult moments He turns to the Father".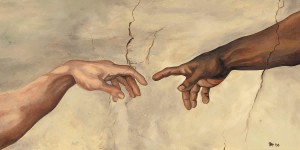 We can also feel the love that God has for each one of us if we let him into our hearts and the Love that is expressed by God, is that of Jesus as he loved those around him who are so close to him, like his mother, or Joseph or the disciples. The implication is that each one of us should love others with the very self same love, just as God's love is "poured into our hearts through the Holy Spirit that has been given to us". (Romans 5: 5).
In his blog two weeks ago Father Jonathan spoke about Pope Francis and his message of hope.  Then again in last week's, he spoke of his feeling of hope, reinforced as he visited Holywell.  To conclude my blog for this week, I would suggest that, if there is one great message in all of this for mankind, it is surely the fact that the Sacred Heart of Jesus – a message essentially about love – contains one great fundamental truth, and that truth is about HOPE.  The most perfect love the world can ever know,  offers all of us – each and every man, woman and child – that promise of hope that is beyond all comparison.  Believe in Jesus, accept his love in the spirit given, trust in him, and nothing can ever be lost, for there is always HOPE, hope of salvation, hope of everlasting happiness with him and Our Father in heaven.
Socius – Father Jonathan – (A Joint Enterprise)