Enya, as many of you may know, is a beautiful Irish lady; a composer, song-writer and arranger, she has a unique way with a song – especially with music of her own composition and arrangement – and most especially with music that is essentially Celtic in character; she is easy to listen to and her music is quite charming.  You can tell I am a fan!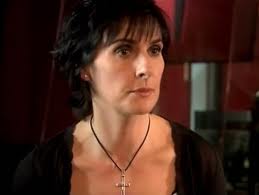 Enya
The other afternoon I was listening to an album containing some of her very best songs, and was suddenly struck by the words of one song entitled, "Only Time."  The lyric contains the following verse:
'Who can say when the roads meet
That love might be in your heart
And who can say when the day sleeps
If the night keeps all your heart
Night keeps all your heart.'
The questions asked by the words of this verse, and by the other three verses are difficult, if not impossible, to answer.  Questions which ask about the future, about many things that touch the emotions, and about those aspects of our lives founded other than on the reality and the physical, often occupy our minds and cause us frustration when we cannot come up with a solution.
We human beings do not have the powers to see into the future; we do not know what the next minute, hour or day may bring.  Often, we do not know what causes us to act in a particular way towards another; the results of our action may be good, or bad; furthermore we do not know how the other will react to the stimulus of our actions – again, they may be good or bad.  There are so many things we cannot foresee, or control, when it comes to our relationships with other people – but often the good, or bad, will depend on whether our actions – or those of the other – were initiated by love in our hearts – that, or the lack of it.
Turning away from the problems we have with our lack of knowledge – even understanding – on subjects related to our lives in this temporal world, matters are set to become even more uncertain when we begin to look at the spiritual world – at God's world – and all the things we have been taught by the Gospels.  I was at Mass the other weekend, and was suddenly struck by a passage in the second of the readings – St. Paul's letter to the Corinthians (1 Corinthians 2:9-10):
"… we teach what scripture calls: the things that no eye has seen and no ear has heard, things beyond the mind of man, all that God has prepared for those who love him.  These are the very things that God has revealed to us through the Spirit, for the Spirit reaches the depths of everything, even the depths of God."
I think it is true that we are often puzzled by the Spirit of God – and what He does.  We believe, from faith, that He is the third person of the Blessed Trinity.  Christians all over the world are constantly repeating prayers to 'God the Father, God the Son and God the Holy Spirit'.  The last named is intriguing!
We can, perhaps, more easily accept the role of God the Father, for he is the creator of all that was ever made; he had no beginning and will have no end.  He IS, and always will be.  His existence lies in infinity – something we cannot understand – but, through faith, again, we know He has the ability to do everything, and to know everything; there are no limits to His powers.  We can readily relate to God the Son, for He became man and lived the life of a human on the planet, just as we do.  We believe that He suffered and died in a monumental sacrifice for the sins of mankind.  We also believe that He rose from the dead and eventually returned to heaven, with a promise to be with us for all time, and to return to us on the Last Day.  We then come to the Spirit, and are told that He is the very Spirit of God, that He breathes love and understanding into what we lovingly call the Holy Trinity – three persons – equal, individual, in every way – yet unified in One True God – always and forever.
The words of St. Paul remained in my mind for a good few hours and I then decided I would look up the reference.  I cannot pretend to understand fully what Paul was driving at.  What he was concerned with was to explain that the Holy Spirit is a driving force – profound, and at the very amoebic creation of everything – with infinite understanding of every idea, every thought, every creation that was ever conceived – even to the depths of God the Father and God the Son.  He is all knowledge – and hope, and faith, and love.
I was still giving thought to these matters – my mind often in turmoil – and sometime later, the same mind turned to Pope Francis and his 'Joy of the Gospel', again asking questions as to whether he had any 'pearls of wisdom' to help with all my questioning.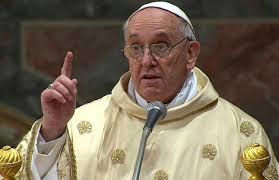 Taking us through the Gospels and, in so doing, giving us an explanation of God's role at the centre of all creation, then setting out for us the part that Jesus played in his incarnation, crucifixion and death, his resurrection and later his ascension, Pope Francis goes on to describe our roles as pastors and lay persons, all of us relating to the world of God in what we do – and what we fail to do – especially the roles we all have concerning evangelisation.  In paragraphs [279] and [280], he makes reference to the actions we take, what inaction means, and then makes special reference to the Holy Spirit, and his overall care for all that is going on.  He is there, looking after things, when we are many times in confusion:
279. 'Because we do not always see these seeds [… seeds referring to Christ's resurrection calling forth new seeds of a new world], growing, we need an interior certainty, a conviction that God is able to act in every situation, even amid apparent setbacks: "We have this treasure in earthen vessels" (2 Cor 4:7). This certainty is often called "a sense of mystery". It involves knowing with certitude that all those who entrust themselves to God in love will bear good fruit (cf. Jn 15:5). This fruitfulness is often invisible, elusive and unquantifiable. We can know quite well that our lives will be fruitful, without claiming to know how, or where, or when. We may be sure that none of our acts of love will be lost, nor any of our acts of sincere concern for others. No single act of love for God will be lost, no generous effort is meaningless, no painful endurance is wasted. All of these encircle our world like a vital force. Sometimes it seems that our work is fruitless, but mission is not like a business transaction or investment, or even a humanitarian activity. It is not a show where we count how many people come as a result of our publicity; it is something much deeper, which escapes all measurement. It may be that the Lord uses our sacrifices to shower blessings in another part of the world which we will never visit. The Holy Spirit works as he wills, when he wills and where he wills; we entrust ourselves without pretending to see striking results. We know only that our commitment is necessary. Let us learn to rest in the tenderness of the arms of the Father amid our creative and generous commitment. Let us keep marching forward; let us give him everything, allowing him to make our efforts bear fruit in his good time.
280. Keeping our missionary fervour alive calls for firm trust in the Holy Spirit, for it is he who "helps us in our weakness" (Rom 8:26). But this generous trust has to be nourished, and so we need to invoke the Spirit constantly. He can heal whatever causes us to flag in the missionary endeavour. It is true that this trust in the unseen can cause us to feel disoriented: it is like being plunged into the deep and not knowing what we will find. I myself have frequently experienced this. Yet there is no greater freedom than that of allowing oneself to be guided by the Holy Spirit, renouncing the attempt to plan and control everything to the last detail, and instead letting him enlighten, guide and direct us, leading us wherever he wills. The Holy Spirit knows well what is needed in every time and place. This is what it means to be mysteriously fruitful!' 
Socius.