One day Jesus was praying in a certain place. When he finished, one of his disciples said to him, "Lord, teach us to pray, just as John taught his disciples." ( Luke 11: 1)
It is a lovely scene. I can imagine the disciples, probably the twelve with some others, and they might have had a picnic in the sun; some might have been sucking on pieces of grass, others resting in the shade of some bush, or tree; others chatting while Jesus was praying, perhaps sitting quietly, or standing – even kneeling. If one goes to the site of the presentation of the 'Our Father' it is on the Mount of Olives, and the place where Jesus was praying, is in a kind of cave.
What it was like two thousand years ago must have been very different. Nowadays, it is in the compound of a large Carmelite Convent, and there is a huge Church, on the walls of which, is the famous 'Our Father' written in almost every language imaginable.  Unfortunately, it is almost impossible to eradicate the image below from one's mind and go back to the pastoral scene in which Jesus prayed and taught.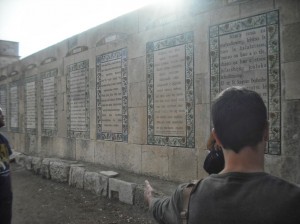 Some of the examples of the Our Father in different languages at the spot
where Jesus taught his disciples how to pray.
Those disciples were impressed by Jesus praying, and so they asked him: "Lord, teach us to pray just as John taught his disciples." I think one of them might have been Andrew, as he was a disciple of John the Baptist, before knowing Jesus. I think John the Baptist and Jesus were probably very similar – even though John is often portrayed as 'fierce', as he deliberately dressed like a prophet, wearing clothes of camel hair tied with a leather belt round his waste. John used strong language to the Pharisees and Sadducees who came for baptism: "You brood of vipers!" (Mt 3:7). Jesus also used the same phrase to the Pharisees (Mt 12: 24). I think both John, and Jesus, were very straight-forward, uncomplicated, highly intelligent men, whose hearts were pure and 'straight-to-the-point' as both knew God was with them. They saw the hypocrisy of these Jewish leaders and had the strength to criticise them openly. I wonder if Jesus was helped to formulate the extra-ordinarily full, yet succinct prayer, the 'Our Father', with the help of John the Baptist's prayers.
I also wonder at Jesus on the cross and ask: "How did he pray that prayer?" It is such a calming and satisfying prayer. I remember, once, feeling in turmoil, spiritually, and going for a walk, alone along the River Mersey from Otterspool to the Albert docks, and back, a walk of over an hour and a half; in the process, I found myself praying the 'Our Father' once only. Each phrase took many moments to absorb and to fill out with meaning. I was at peace by the end of that walk.
On the cross, Jesus, we know, was at the end of his tether. We know he spoke seven last words, so we can get a glimpse into his mind. I want to take only one of those phrases: "My God, my God, why have you forsaken me?" (Mt 27: 46). (Perhaps on another occasion this blog may look at the other phrases.)
Throughout the experience of generations, the spiritual masters of the time, who have pondered, and lived, this phrase, realise that Jesus, in his humanity, felt that God, his Father, was no longer there present to him. "The Father and I are one", (John 10: 30), Jesus had uttered, but now, that relationship, which was constitutive of Jesus' existence, was utterly broken. So, he could not call God the Father, his Father; in that moment, the relationship was broken and so came the sense of utter despair, failure and loss of everything constitutive of his being. Actually St Paul makes a shocking statement about Jesus in this regard: "For our sake he made him to be sin who knew no sin, so that in him we might become the righteousness of God". (2 Cor 5: 21)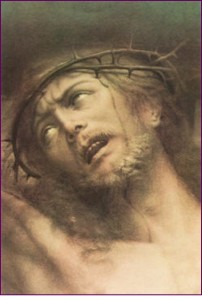 Jesus seems to be crying out his sense of being utterly forsaken
Interestingly, just after this, Jesus said something that comes from the depth of his being – something that, perhaps, leads back to that faith which is hope beyond all hope: "Father, into your hands I commit my spirit." (Luke 23:46).
My conclusion is that, in the single person of the Word of God on the cross, is the unfathomable mystery of our humanity. That is why it is our redemption. More importantly than pondering and understanding, it calls for loving – loving Jesus – loving God in all his unfathomability – perhaps a good exercise for Lent? Certainly, it leads us to the Kingdom of God prayed for in the 'Our Father', where creation lives in harmony and union with God.
Fr. Jonathan