The Canonisations of Two Famous Popes – Sunday, 27 April 2014
Posted by Fr. Jonathan
Apr 24
This weekend sees a remarkable day. Two 'recent' popes will be canonised by Pope Francis, in St. Peter's Square, Rome on Sunday – the Feast of the Divine Mercy. Good Pope John 23rd from Bergamo Province in Lombardy, Northern Italy, was Pope from 28 October 1958 to the 3 June 1963. He was from a peasant family of share-croppers, just like the majority, who lived simple lives in the small village of Sotto il Monte; he was the first born son, with 13 other siblings.
John Paul II was from Poland; our Holy Father from 16 October 1978 to 2 April 2005, he was the youngest of three children born, in Wadowice, a southern Polish town near Krakow.
Understandably, there is a sense of growing excitement at the coming celebrations; I was talking to Fr. Cyril two days ago; he is presently studying in Rome, and he told me then, that Rome is filling up with people keen to be present for the canonisation of these two great papal figures.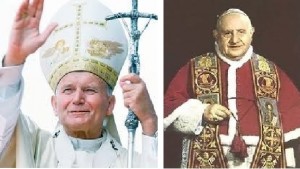 Pope John Paul 2                     Pope John 23
 Both of these holy men were Popes in my lifetime. I remember John 23rd very well. When he died, I felt a strange emptiness, as though I had lost a close friend. The BBC even headlined his death, as the main story on the news, and many people who were not Catholics, also mourned his passing. A simple man and 'man of the people', he was a winner of hearts and minds. He often used to make jokes and I remember hearing one of them that, quite unusually, still sticks in my mind. When his family came to visit him in the Vatican, they were not from the upper ranks of Italian society, but ordinary folk of Sotto il Monte, and that area. One of them, curious about the Vatican  and the scale of its operation, as a whole, asked his brother how many people worked in the Vatican. John 23rd answered with a slight grin, "about half"!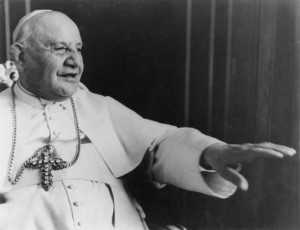 Pope John 23 at the Vatican Council
When a person is canonised, it is an absolute requirement that two miracles should be able to be attributed, directly, to that person. I read, today, that for John 23rd Pope Francis declared him a saint, based on his merits in the opening the Second Vatican Council, on 5 July 2013. He will be canonised alongside John Paul II, this coming Sunday.  John XXIII is today affectionately known as the "Good Pope", (in Italian, "il Papa buono"). His feast day will not be celebrated on the date of his death, as is usual, but will be on 11 October, the day of the First Session of the Second Vatican Council. He is also commemorated, within the Anglican Communion, with a feast day on 4 June. Pope John 23rd is noted, most of all, for his calling of the Second Vatican Council, which lasted from 1962 to 1965.
Pope John Paul II was Pope for a very long time; on his election, he achieved a little fame, because he was the first non-Italian Pope for centuries; he told the people in St Peter's Square, on the day he was announced as Pope, that he came from "a faraway country", echoing the prophet Isaiah 13: 5. He was the first Pope to travel very extensively. I remember him coming to Britain, and I saw him personally, in London, at a meeting of Religious men and women, and in Cardiff, at Ninian Park – the Cardiff City football ground. He made a great impression on me, when he said to the young people, present, that they should remember the Pope and asked them all to be people of prayer. The background to that visit was the conflict over the Falkland Islands, and the Pope made impassioned pleas for peace – peace and no war. War, he said, is a thing of the past. However, Britain and Argentina went to war, and I remember sending a letter to an Argentinian Salesian, a man who later became a bishop, telling him that the Religious in our country, who belonged to the Focolare Movement, wanted to pray with the Religious of Argentina, and assure them that we did not want this war. The Salesian replied, assuring me of the same. It was an emotional moment, for me, when I received that letter. All this was inspired by a similar message, sent by the young people of the Focolare Movement, in both countries.
I was also impressed at how Pope John Paul II gave himself, publicly, to the people, and even lived his dying, in public. I am certain that he had learned the great lesson life – that of living in communion with others – something that reminds me, again, of my friend Manfred Kochinky, a German national, who died last year after an illness. He lived the spirituality of communion, trying to be united with all, so that Jesus was always with him, as is promised in Matthew 18:20. "Where two or more are gathered in my name, there am I among them". He also shared his illness and his dying, seeing even in his sufferings "diamond" moments, and many were encouraged to face the challenges of their lives by the actions of Manfred.
Pope John Paul II will be remembered for many things, but one that strikes me, was the way he forgave the Turkish man Mehmet Ali Agca, who tried to assassinate him.
His feast day will be held on October 22 each year.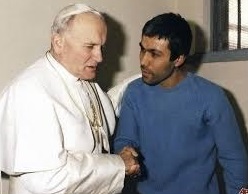 Pope John Paul 2 meets and forgives his would be assassin
Fr. Jonathan Cotton OSB